Rosemary Siemens & The Sweet Sound Revival – Chilliwack Alliance Church, Chilliwack, BC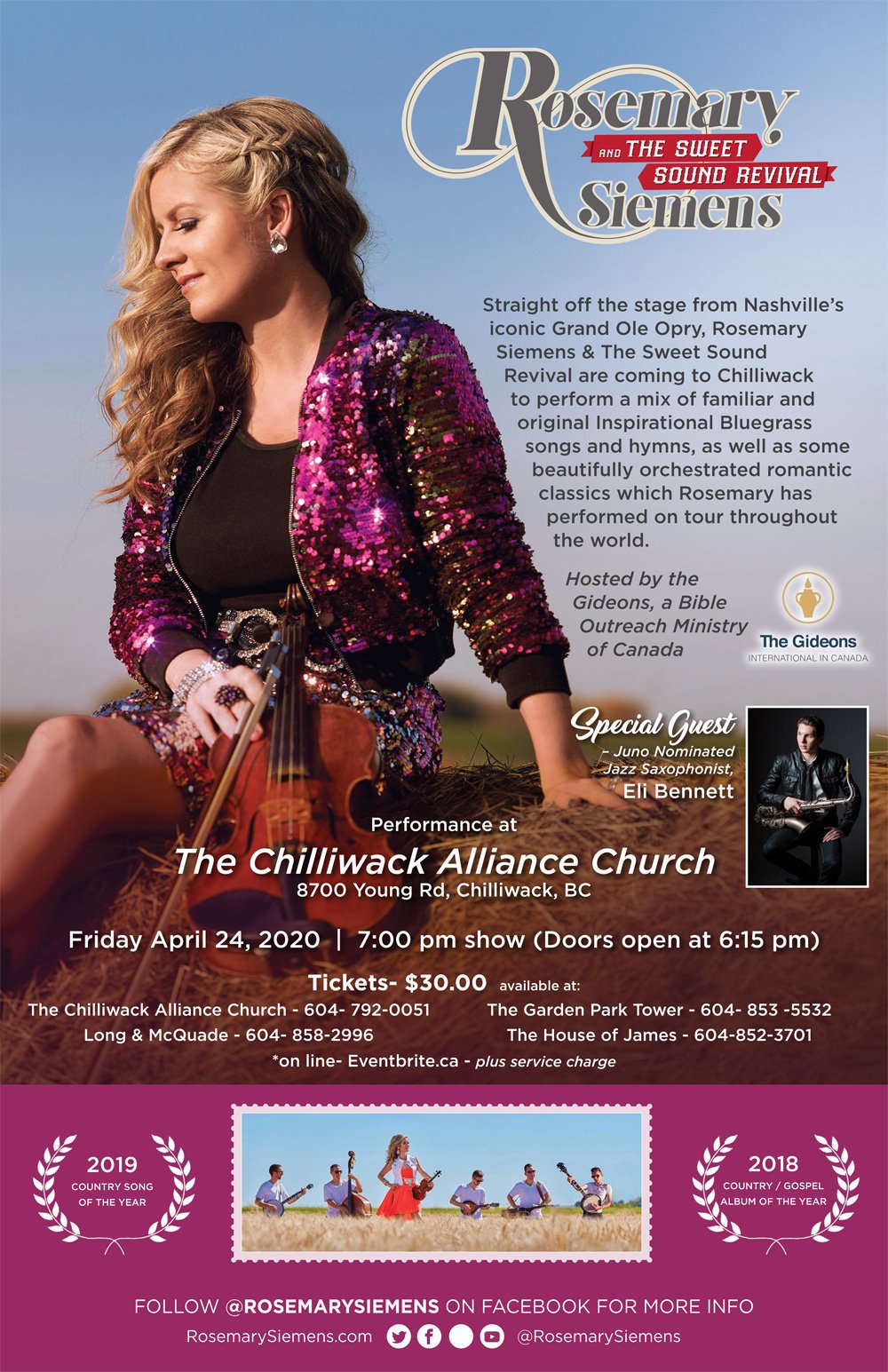 Rosemary Siemens & The Sweet Sound Revival is an Inspirational Country + Bluegrass group that breaks from the confines of a traditional concert to deliver the most amazing inspirational and captivating show featuring award-winning world-class violinist and vocal sensation Rosemary Siemens. Known for her love of sparkle and bling, quirky laugh, and warm genuine country-girl personality, Rosemary has mesmerized audiences around the world with her three-hundred-year-old violin she named Sparkle. Inspired by her country-roots and small-town upbringing, her latest album, Plum Coulee, My Home, has gained international success, and together with her five-piece band The Sweet Sound Revival, this toe-tappin', hand-clappin', down-home heartfelt old-time country show brings every audience through a journey of musical memories, inspirational and emotionally relatable stories, songs that bring a smile to each face, and exciting solos that will bring you to your feet wanting more. Rosemary's dynamic musicianship has allowed her to grace some of the world's most famous stages including performing four times at New York's legendary Carnegie Hall, and as the first instrumentalist to perform at the Sistine Chapel and St. Peter's Basilica at the Vatican. She has also had the honour of performing for the likes of two U.S Presidents and Canadian Prime Ministers, GRAMMY-Award-Winning music producer David Foster, The Gospel Music Awards, The Latin GRAMMY Awards, Hockey Night in Canada, The Miss America Pageant, and the 2010 Vancouver Winter Olympics.
Her latest album Plum Coulee, My Home was inspired by her love of three-part-vocal-harmony and down-home fiddle-based country music, and pays tribute to her prairie hometown of Plum Coulee, Manitoba. Together with her band The Sweet Sound Revival, Rosemary is changing people's lives, one audience at a time.
– Nominated for 3 of Nashville's 2019 Inspirational Country Music Awards "Inspirational Bluegrass Artist of the Year", "Musician of the Year", and "Video of the Year
– Performed at The Grand Ole Opry at the ICMA Awards show – Nashville April 4th 2019
– Won "Best Country/Gospel Album of the Year" at Canada's 2018 Gospel Music Awards
– Won "Country Song of the Year" at Canada's 2019 Gospel Music Awards
– Won 3 Global Music Awards for "Best Bluegrass/Country Album", "Best Songwriter", and "Best Artist"
– 2018 40-show U.S. Tour
– Performed four times at New York's Carnegie Hall
– First Violinist to ever perform at the Sistine Chapel at the Vatican
– Performed for 2 U.S. Presidents and Canadian Prime Ministers
– YouTube video of "Hallelujah" at 18 million views
– Facebook video of "I'll Fly Away" over 1 million views
– Awarded Queen Elizabeth II Diamond Jubilee Medal
– Performed in over 25 countries and 40 States
– Performed with GRAMMY-Winners Carl Jackson, David Foster, Christopher Cross, Marie Osmond, Gospel-Legend CeCe Winans, and Oscar Peterson, Loverboy, and the Winnipeg Symphony Orchestra as featured soloist.
– Performed at 2018 National Prayer Breakfast in Ottawa for Prime Minister Justin Trudeau
"Rosemary Siemens is unquestionably the most outstanding entertainer that I've come across in some time. In over 50 years working as a publicist with some of the biggest names in music like Dean Martin, Willie Nelson, and the Statler Brothers, I predict that Rosemary is a 'star on the rise'". – Mike Marx Promoter Le Grange College, Hannibal MO.
"In the last several concert seasons, Rosemary Siemens has performed over 50 concerts on our network of community concert associations. After 35 years of booking musicians on this circuit……I can honestly say Rosemary is one of the TOP performers we have ever worked with. She is not only a skilled violinist and outstanding vocalist, she has a rare charisma that audiences just love. Truly a classy and professional musician who has given our audiences many outstanding performances! I would highly recommend Rosemary to any concert audience." – Paul Folin, Allied Concert Services.
"Seldom does music bring a tear to my eye, but yours did – it was so beautiful!!!" – Concertgoer from Algona, Iowa
Social Media: @RosemarySiemens Website: www.RosemarySiemens.com
Management: Dale Penner Paradise Alley Prod. 204 890-5377 [email protected]